Springtime greetings to all of you, 
I am truly blessed at this moment to be lying on my belly in the grass, buttercups blooming all around amid the hum of insects, gazing out across the strangely blue Gascon cows, who eye me suspiciously from time to time, towards the mists obscuring Mont Valier in the distance. I trust you've been enjoying some respite from endless doom and gloom, wherever you may be.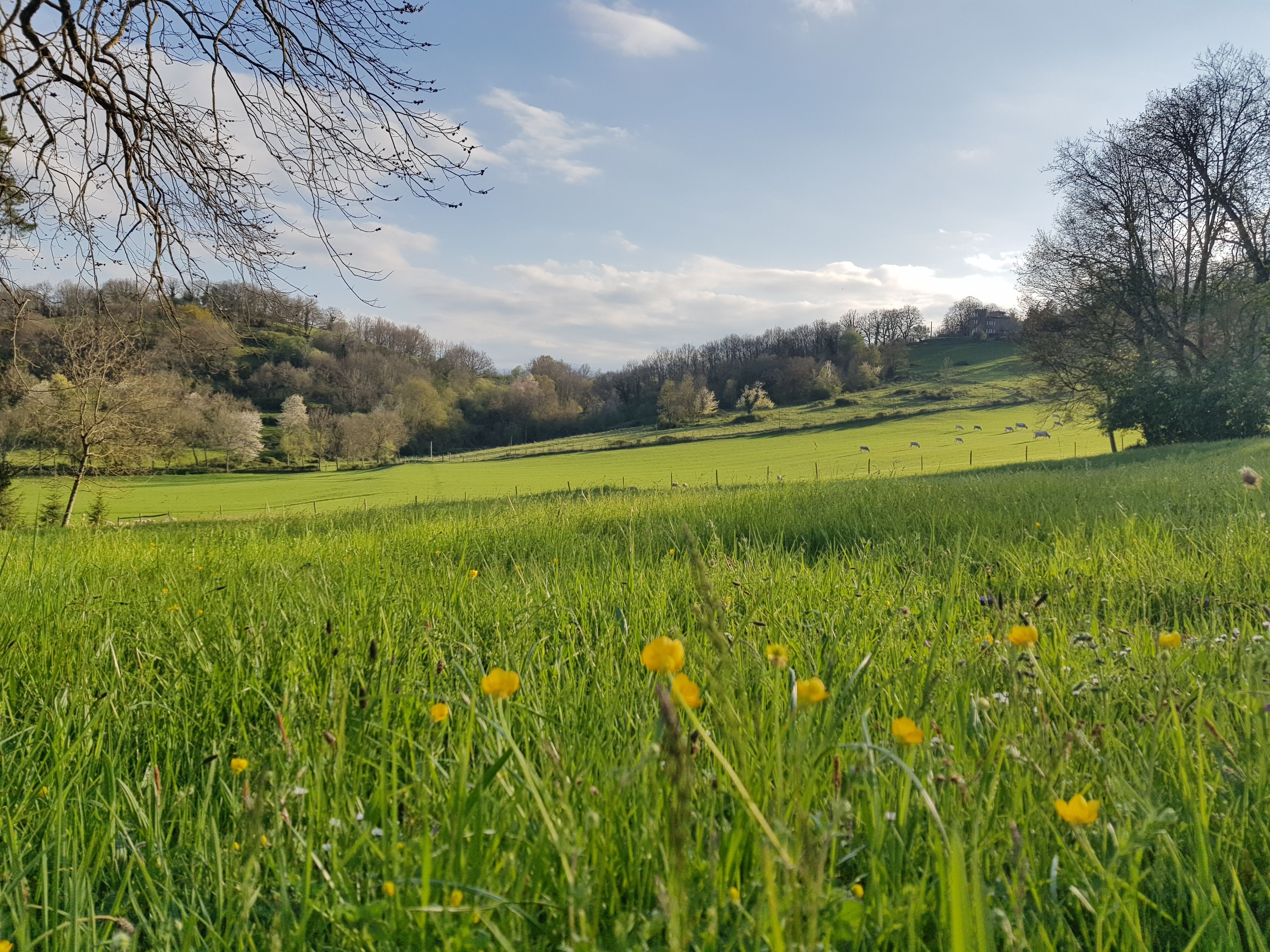 After an enforced, and I must say deeply refreshing break from screens, brought on by my laptop charger suddenly giving up the ghost a couple of weeks ago, I have spent the past few days since the new charger arrived (in a near silent, electric yellow Postman-Pat mobile) pretty much glued to the thing, wrestling windows and attempting to get my head around the minutiae of constructing a new website, and painstakingingly uploading much of my life's work into imaginary boxes. 
During the break I've explored a little more of our current parish here in Ariège, and rediscover the reading of actual books, and their attendant joys. I devoured The Grapes of Wrath, which, though desperately depressing on so many levels, is a truly astonishing work of American literature, right up there with Huck Finn and Moby Dick, and unnervingly resonant with our contemporary scene, two books of Roald Dahl's short stories, a bit of V.S. Naipal and even a touch of Dickens, and after a pretty chilly winter in the van, a few days of sunshine in which to read has been a godsend. 
Anyway, I have news. Drumroll please… From now on, all of your Djukella musical needs will be catered for at jezhellard.net
I've had to give up on the old website for the moment (though it remains as an antidiluvian relic of our pre-covid world) as my dear friend Dan who runs it seems to have entirely disappeared, and for months I have been unable to find him , or indeed access the website to keep it up to date. If anyone has any idea where DJDJ has got to, please let me know, but for now we have a brand new album to release, and for that, the rigours of this modern world mean that a website is a prerequisite. 
And it's quite a fancypants kind of a website I might add. Please give it a visit and let me know if it all works alright, both on computers and the omniscient black mirror, or whichever device it is you prefer to finger. If there are any features, songs, performances or anything else you'd like to see there, just let me know and I'll see what I can do. 
In the mean time, look what we have here...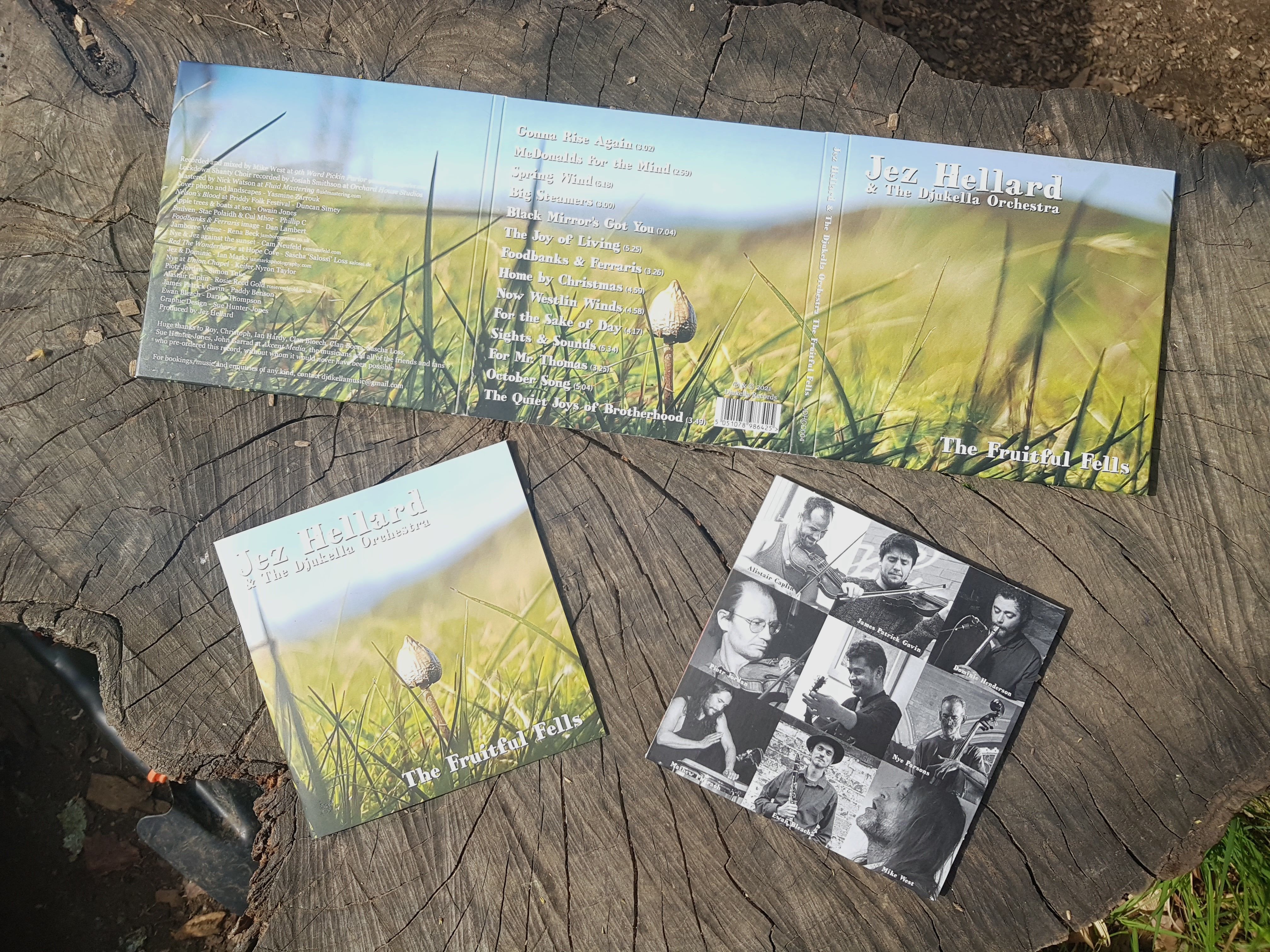 Talking of the new album, just around my birthday, I received the first box here in France and it has come out looking and sounding very pretty indeed, though I say so myself. By now I understand that the bulk of the preorders have been sent out, barring a few international orders I'm trying to work out how to get through the French postal system, so if any of you who ordered one have yet to receive a package in the post, get in touch and I'll remedy the situation as soon as possible. 
For those of you who don't have a CD player, the album is now available to download from our Bandcamp page, which you may know, or the brand new website. 
Now, with the help of this new website, we will be embarking on a publicity campaign ready for the official release in early July, when, with any luck, I may be allowed back into the country and even, dare I day it, to perform a few concerts to actual human people. 
If any of you have a moment spare, please email your favourite radio-show/venue/festival/newspaper/magazine or arts organisation, asking to hear/see/read about or indeed fund us in our constant yet underpaid work of bringing music, poetry and a little sense to our troubled and confusing world. 
Tell a friend about the website or show someone a youtube video. Send a download as a gift to a music loving friend or family member. You'd be amazed how much help the tiniest of actions can be. 
Over the past few weeks I finally managed to get it together to record a couple more videos for Falkirk Folk Club's weekly online folk session, which just goes from strength to strength.
Though I'm mostly technologically inept, and have largely failed to capitalise on the current situation by developing a regular online performance presence (it's quite hard from a van, to be honest), as various innovative and inspiring friends have (if you've yet to see Tim Edey or Ewan Bleach at their weekly shows, you're really in for a treat, also Scott Cook, Adam Beattie and various others have outdone themselves in this brave new world), Falkirk's session, managed majestically from a gently disco-lit desk somewhere in spacetime, by the unflappable Charles Tibbles, keeps drawing me back.
To see the massive improvement in everyone's playing which comes from being forced to record yourself every week for a year and more played out in myriad forms is truly inspiring, and the sense that the community has become stronger, rather than fragmenting through lockdown is palpable. Thanks to the lot of yous for having me in now and again. 
So there is talk of it being legal to put on concerts and even some festivals this summer, though I won't hold my breath just jet, but if all goes to plan (an irreversible roadmap!? - what on earth could that mean? Surely timeline is the word you're after) we will be releasing the new album and touring from the first week of July, so if you fancy some outdoor, covid-safe music, keep an eye on the Shows page on the website for dates as they come in, and if you have a garden, barn, marquee or other suitable venue and 25 or more people to listen, get in touch and we'll come and do bespoke concerts for any situation.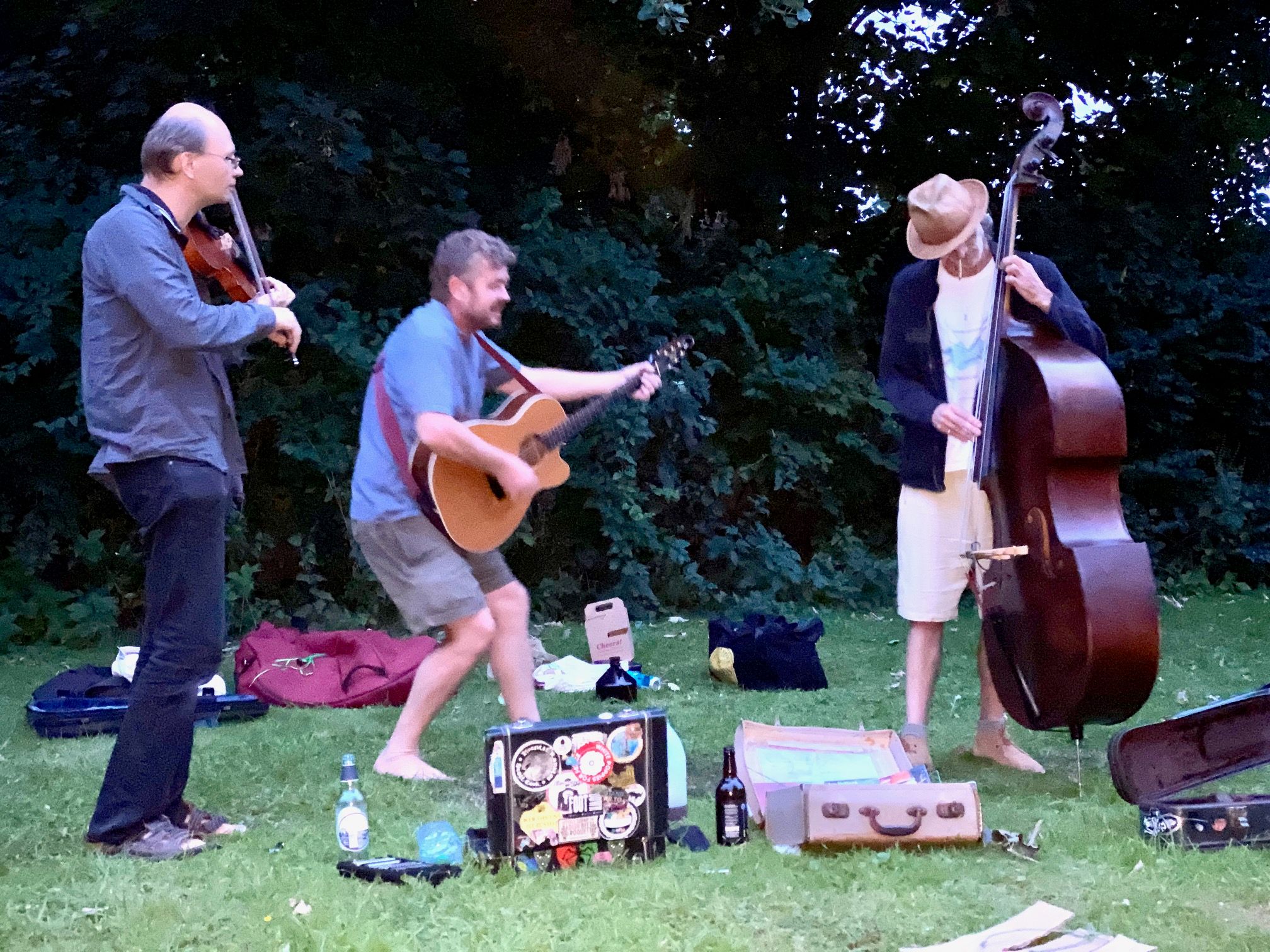 Talking of musical comrades and new albums, anyone who has yet to preorder a copy of TEYR's new album Estren, then you're missing out. It's released on April 30th, so get yourself ready for the off, but for now here is their latest single...
Thanks to all who've pre-ordered Djukella albums, donated to the tip-jar and generally helped to keep us alive through what has been a tough year for us itinerants in the performing arts. 
Having ranted on about what a luddite I am, I will endeavour in the next couple of weeks to set up some rudimentary studio from which to do some livestream shows. The ones we did last year were such fun. It's so refreshing to communicate with you all, even if it's only through comments on the screen and occasional flying emojis. I will update you all about this in due course. 
For now I'll leave you with a song from the new album whose last couple of verses seem even more poignant than usual, but I thoroughly recommend you get your hands and indeed ears on the album version, replete with the soaring strings of The Djukella Orchestra.
For now, I trust you're all having a fine Easter Weekend, enjoying the chance to see other people (depending on where you are, I suppose) and generally feeling glimmers of hope amidst all the darkness. 
Looking forward to some correspondence from anyone who finds the time, and to seeing you all as soon as possible. 
Jez