Dear friends around the world,

After a long, hard winter shivering in various parts of a building-site, wrestling with French bureaucracy and enduring rather too much existential despair, spring has finally burst onto the scene around these parts. The radio tells me that the cities of France are on fire and the whole country has ground to a halt in absolute revulsion at Macron's extra-parliamentary shenanigans, but you wouldn't know it from here.

About ten days ago, as though someone had flicked a switch, temperatures suddenly rose ten degrees and everything started to grow. We've even had a touch of rain for the first time in months, which is helping no end after a remarkably dry winter; wildflowers carpet the floor in the woods, the ash trees are starting to push out their first tentative leaves of the season and the hum of insects is back on the breeze.

I've been getting myself back into the habit of playing music everyday, rather than spending all my time putting calluses on the wrong parts of my hands, and it's been going quite well, which is always reassuring. Gigs are starting to line up for the summer, and with any luck I'll at least be able to afford the diesel to get to them.

For anyone of a Welsh persuasion or with a penchant for Dylan Thomas, we'll be playing Gower Folk Festival on Saturday, June 10th, for those in Surrey or thereabouts, we're at The Horton, a beautiful new venue in Epsom, on Thursday June 15th, and for my fellow country-folk of Northamptonshire we've got a candlelit show for Little Ember Sessions at The Talbot Hotel in Oundle on Thursday, August 24th. There will plenty more, but for now, tickets for these shows are available, and we'd love to sell them out.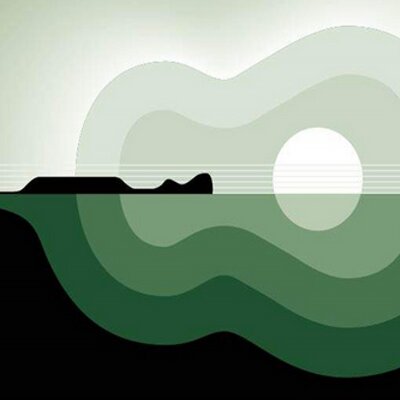 As seems be the case with many people at the moment, I've been really struggling with depression and overwhelming bouts of anxiety for months, not helped by an onslaught of demands for ridiculous sums of money from a plethora of intimidating acronyms, but I'm beginning to get on top of that, at least. The more disturbing French ones turned out to be an error on their part, but their automatic system continued to send me increasingly frightening demands week after week, despite endless chats with their very helpful and understanding call-centre staff. At the moment, I haven't had one for over a month, and (touch wood) I have a feeling the message may finally have got through.

As for His Majesty's lot, the very cheek of them informing me that I owe them for "overpayments made during the COVID measures" is a little harder to swallow. I received two payments totalling about £400 to see me through a year of lost work, when peers, cronies and assorted criminals, friends of Matt Hancock and other unsavoury characters gorged on multiple billions from the government teat, of which a mere 0.9% has been recovered or even pursued.

It may be my cut-throat business brain speaking, but it seems a slightly flawed strategy to relentlessly pursue the poor, desperate and disabled for money that they don't have, when such fortunes have been squirrelled away all around; often by people not much brighter than the aforementioned washed-up politician, who willingly gave hundreds of thousands of incriminating WhatsApp messages to a "journalist" renowned for betraying her sources and landing them in jail. He even paid her for the privilege.

Such madness seems all the rage at the moment. At the start of last week, the 20th anniversary of the invasion and consequent destruction of Iraq was marked with great fanfare on the morning news; accompanied without a trace of irony in the triumvirate of headlines by a press-release from the UN warning that the world is at a tipping point in terms of environmental catastrophe, and to end on a positive note, a piece celebrating the order of one million incendiary shells to be shipped to Ukraine.

The cognitive dissonance required to swallow, or indeed spew, such paradoxical nuggets of information in the same breath is surely worth some sort of prize. I'm left wondering just how many times I need to drive my gas-guzzling SUV to the supermarket and back to leave the carbon-footprint of just one of these incendiary shells, which I've since heard are laced (or perhaps blessed) with small amounts of depleted uranium; to help the medicine go down, I suppose.

In the twenty years since the start of Bush and Blair's (or perhaps Rove and Campbell's - how names blur in the haze of time) ill-fated crusade for "freeman-moxy" in the Middle East, countless tons of ordinance have been rained down liberally on an ever increasing itinerary of countries, while we're all encouraged to scrupulously separate our recyclable waste and compost teabags. Again, maybe our sights are trained in the wrong direction.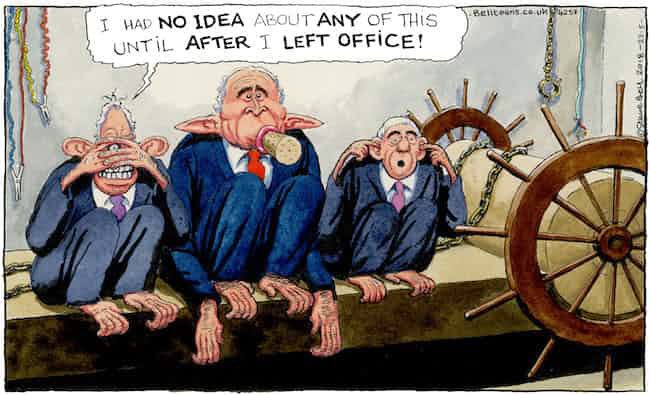 It does seem to be the season of portentous anniversaries. The 30th anniversary of the privatisation of Britain's water infrastructure is marked by the release of literally millions of gallons of raw sewage into our rivers, lakes and beaches, as the hedge funds who run the system cream off yet more dividends; liberated, as they are from decades of EU regulation, monitoring and investment which had eventually managed to undo some of the damage done by two centuries of industrial effluent.

The 25th anniversary of The Good Friday Agreement, which brought an effective end to decades of sectarian warfare in Northern Ireland, having recently been put to the test by Johnson's "oven-ready Brexit deal", was celebrated with a warning of "imminent' terrorist attacks to accompany Joe Biden's upcoming visit.

The 80th anniversary of the end of the Battle of Stalingrad is being commemorated by yet another seemingly interminable bloodbath a mere 500 miles west across the alluvial planes of the Kalmius, Donets and Don. The 75th anniversary of Myanmar's independence from British rule doesn't seem to offer much inspiration, but for those who like a bit of hocus-pocus, it's also 100 years since the opening of Tutankhamun's tomb.

As is often the case, paying too much attention to all this stuff brings me back endlessly to William Butler Yeats' The Second Coming, written a mere 104 years ago, which I've been known to quote before, but I've already painted myself into a rather bleak corner, so for those of you of a literary bent, it's one of the least disturbing things readily available on the internet.

After all, it is a glorious Easter Morning as I type, and my heartfelt wishes go out to friends worldwide for Easter, Ramadan and Passover respectively, which coincide for the first time since 1990. It would be delightful to think that such an auspicious event could be marked by some kind of multi-Abrahamic spring festival, with competing falafel recipes scenting the streets of Old Jerusalem, but sadly it looks like a rather more precarious situation from all sides.

Netanyahu's ragtag coalition of far-right religious nationalists and "judicial reformers" have continued as many feared they might, with such unpalatable actions that not only the oppressed masses of Gaza and The West Bank, but vast swathes of Israeli society, including their diplomatic service have been out on the streets for months protesting.

Oh, for a bit of colloquy rather than endless tub-thumping and sloganeering. My thought's also go out to all of my Taiwanese and Taiwan-based friends who are likely celebrating none of the above, but are currently surrounded on at least three sides by the latest set of "military exercises".

Talking of tub-thumping, sloganeering and rough beasts, we've recently been treated to the synchronised return of the two transatlantic blonde beasts who've so haunted the past few years in the English speaking world, but this time in the dock, rather than behind a lectern.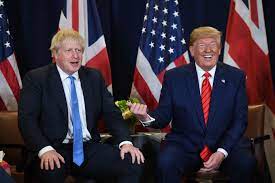 While bringing charges against Trump does seem to me entirely counter-productive; giving him the oxygen of publicity he constantly craves just when it appeared he was a spent balloon deflating with more of a whimper than a bang, the sorry sight of Boris, sporting for once an approximation of conventional coiffeur, shirt tucked-in and shoes shined, hunched like a petulant schoolboy in the metaphorical head-master's office, bleating and blathering his increasingly vexed protestations for three hours seemed to signal anything but the much vaunted notion of his triumphant, Churchillian renaissance.

The point was hammered home when after returning from the call of the division bell which was supposed to herald his full-frontal assault on Sunak's authority, such as it is, it transpired that only 21 of his amassed ranks had followed him into the breach, and that included Liz Truss, Jacob Rees-Mogg and Michael Fabricant; so make that 18.

Watching him being made to swear an oath on the bible, which has coincidentally never been required for any other such plaintiff, it was remarkable that it didn't burst into flames. In this increasingly litigious age, it's an object lesson that giving someone their day in court can often backfire, whereas just allowing them to humiliate themselves for three straight hours on live television can be far more satisfying for the rest of us.

While all this sleight-of-hand goes on in the popular press, training our eyes on ostentatious clowns and endless wars, it's rather more worrying to see what nefarious policies various desperate and collapsing "governments" try, and often manage to push through before they inevitably get voted out.

Storming the Al Aqsa Mosque with riot police during Ramadan is one of the more transparent attempts to stoke up enough trouble to obscure widespread discontent on the domestic front, but far more insidious to this observer is the fact that the UK has in the past weeks joined the unfortunately acronymous CPTPP (the Comprehensive and Progressive Trans-Pacific Partnership rather than the Seepy Teepee Pee), a trade-deal so toxic that both Trump and Biden, along with Bernie Sanders and countless others were all united in refusing to touch it with a barge-pole.

Whatever your thoughts on membership of NATO, at least the UK is actually situated in the general vicinity of the North Atlantic. I know that while serving briefly as Foreign Secretary, self-described "hard-man" Dominic Raaaab was taken by surprise by Dover's proximity to France, but failing to notice that Britain is no-where near the Pacific Ocean really is remiss.

The "benefits" of this deal are negligible, even in the entirely speculative projections of a potential 0.08% increase in GDP over the next decade, whereas the much more immediate effects will be to flood the UK with substandard meat and animal products from environmentally catastrophic industrial feed-lots thousands of miles away, undermine our own farmers just as they try to come to terms with the the fall-out from leaving their biggest export market, and give vast Canadian-based pharmaceutical conglomerates the legal right to sue doctors if they don't push enough drugs on their patients, and to sue governments if they try to legislate in any direction contrary to the plans of their corporate overlords. All in all, it's the kind of thing which might have benefitted from a bit of open public debate, rather than being snuck through under cover of Johnson, while everyone was looking the other way.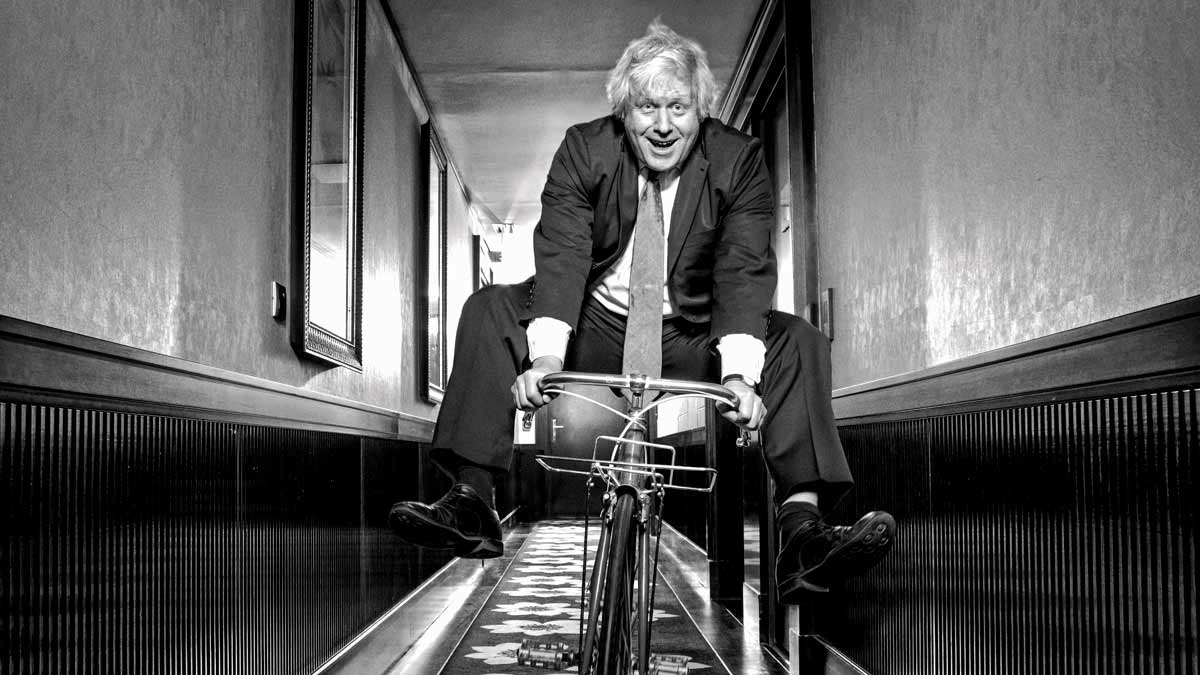 Not having payed much attention to what happened last time they tried it, one of the most entertaining recent episodes of inept governmental sculduggery was seeing deeply unpopular politicians trying to use the stooges they've winkled into positions of power at the BBC to "cancel" Gary Lineker, one of the most popular footballing legends the country has ever seen (and his 8 million twitter followers) for making what some might see as a perfectly reasonable point about the government's toxic rhetoric on refugees.

During the first lockdown of the pandemic, they tried to take on Manchester United and England star, Marcus Rashford who was concerned that children poor enough to be on the "free school meals" programme should be offered sustenance between term-times as well. After sneering about him and his riches in the press, it all backfired spectacularly when he decided to fund the programme himself with the help of a few other socially conscious team-mates. It all ended-up with the government desperately trying to scrape enough egg off their faces to perform a screeching U-turn, and Rashford being enobled by the Queen for services to charity.

Gary Lineker was the childhood hero of my entire generation of young football fans, who now make up a substantial chunk of the electorate; the captain of his national team, the recipient of the "Golden Boot" at the 1986 World Cup and the only footballer to have played 540 professional matches without ever having been given a yellow-card, not to mention the host of the UK's favourite football show for the past 20 years.

You'd think they might have learned to pick their enemies more carefully. As it was, being a gaggle of private schoolboys in Armani suits, they were blissfully unaware of any of these facts (for those of you unfamiliar with Britain's archaic class-system, the upper classes play rugby, not football) and decided that taking on Lineker and his "woke" opinions would play well with the right-wing press.

The result was the whole rosta of football pundits available to the BBC, along with all the commentators, went on strike in solidarity; the players refused to do any interviews with the BBC at all, and thus the Saturday night football highlights were broadcast in silence, without credits, discussion or discernible entertainment value, much to the confusion and chagrine of millions of devoted football fans.

Sure enough, he was back on air the following week with the merest trace of a wry smile, and suddenly everyone was rather interested in why the recently appointed BBC Chairman had neglected to mention organising an £800,000 loan to the erstwhile prime-minister whilst going through the notionally independent appointment process, headed by the very same Prime Minister. Having spent several years living in Taiwan and becoming fairly familiar with traditional Chinese culture and the concept of "guan-xi", the rampant corruption of the British ruling class is not just outrageous but so lacking in subtlety as to be crass in the extreme.

On the subject of extreme crassness (and trying to wrap this up before I subject you all to much more unsolicited invective), in the midst of all these anniversaries, the leader of the Labour Party and widely assumed Prime-Minister-in-waiting, Sir Keir Starmer has decided it's the perfect time to take a quick breather from his constant ideological punishment-beating of Jeremy Corbyn, and continue his mission to "bring civility back into politics" by calling people paedophiles on the internet.

It's all the rage at the moment. When your arguments run dry and you've nothing more to offer, the default position is to accuse your adversary of being either a nazi or pederast. I realise the intention is an attempt at a "mic-drop"; upping the ante so much as to end the conversation entirely, but this is rarely what actually happens.

In this particular case it seems especially daft as a tactic. The statistics which are said to corroborate Labour's suggestion that "Rishi Sunak doesn't think child abusers should go to jail" were harvested between 2010 and 2020. Both Starmer and Sunak were elected for the first time in 2015. Before this, Sunak worked for Goldman Sachs and various hedge-funds, very similar to his mate Macron, while Keir Starmer was the director of public prosecutions; the man ultimately responsible for sentencing policy. How many highly-paid "special" advisors does it take to tell you about "People who live in glass houses…" and all that?

Anyway, that's quite enough of that.

I'd like to leave you with a video of a song which just happens to tie several of these strands together, recorded by the ever-ready Owain Jones at last year's Priston garden concert. Written by Guy Forsyth and released on The Asylum Street Spankers marvellous debut album, Spanks for the Memories, way back in the sun-drenched uplands of 1996, it remains one of the most poignant and relevant songs I know.

I've barely sung it for years, as I generally don't tend to sing in American, but playing a few shows with Dana Wylie reminded us what a gem it is. Thanks to Owain for capturing it for us. Can't wait to see what else he caught that night. I certainly remember a gorgeous Who Knows Where The Time Goes.
Anyone who would like to book us for any kind of gig this summer, to buy any of our albums, throw a little something in the tip-jar or help us find a booking agent and try to protect what remains of my sanity, or just to say hello, please get in touch on your preferred medium. I can barely afford cat-food, let alone diesel for the drive to England, so every little helps, and I'm always open to suggestions.

Otherwise I shall just continue to build walls, practice music and find occasional inspiration in the sublime antics of Finn Russel and Antoine Dupont.

With much love from the last drops of this hazy spring afternoon.

Jez