Dear friends,
Greetings from my first opportunity to communicate in some time, and welcome to all who've joined the mailing list over the summer. 
As the nights draw in, the moon grows fat, and westlin winds usher in a whole new era, I find myself between showers, watching quivering cobwebs in the slant light of early autumn. Well, at least I did on Thursday morning. 
It already seemed a poignant and significant moment when I sat down to begin writing, trying to come to terms with what Nye would call "post-exertional malaise" (after a summer spent frantically careening between stages, sharing truly magical musical moments, interspersed by miles of road and regular bouts of catastrophic news) and an ominous, fluttering sense of existential dread which I couldn't quite explain. 
I'd just launched into the first couple of paragraphs when I turned on the radio, and everything changed. 
Well not everything. I was still sitting at a desk, in a shed in the rain, but from an editorial point of view the goalposts had not just moved, but entirely transmogrified. We now find ourselves at the dawn of the new Carolean age, bidding an inevitable but curiously surprising farewell to one of the only constants universal to the lives of the vast majority of the world's population.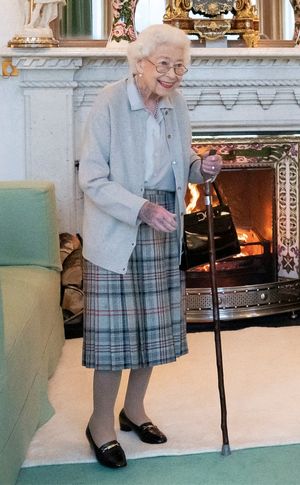 The late Queen Elizabeth II, or endearingly, "Gary" to her grandsons, has put in the most extraordinary lifetime of commitment and total dedication to her duty in all its facets. Whatever one's views on republicanism, monarchy, Diana, Meghan or indeed Pastafari, there is no denying that. 
My heart goes out to all the many people around the world who have held her dear for so long. My heart also goes out to the residents and associates of the James Smith Cree Nation, Saskatchewan in general and the Prince Albert area in particular, the beleaguered populations of Pakistan, Afghanistan, Sri Lanka, Yemen and elsewhere whose woes have suddenly been wiped off the front or indeed back pages, engulfed in a sea of circumstance. 
Amongst the endless pomp and drear of the constant multi-channel take-over of the airwaves since the news broke, I have heard truly inspiring anecdotes from a plethora of the world's citizenry, along with a really very funny story from Theresa May, delivered with beat-perfect comic timing, pausing to take in incidental laughs as they came, about dropping cheese on the floor at a royal picnic. She really seems to have relaxed into herself now that her successor has managed to make even more of a hash of the job than she did. 
The fact that he was allowed to hang around despoiling the beaches of Europe, joyriding in fighter-jets and generally fiddling while the world burns as "caretaker Prime Minister" (has a phrase ever been so misplaced?) for just long enough to exceed her three years and thirteen days in office tells as much about the driverless inertia of our delicquessent political system as it does about his own shameless and unending shallowness, pettiness and vanity. 
Talking of driverless inertia, the malfunctioning robot currently "in charge" of governing The King's Dominions has now been afforded a couple of weeks to let it all sink in and perhaps even come up with some kind of plan to stop us descending into rampant cannibalism before Christmas. 
After a seemingly interminable summer of repeating the same five lines to small gatherings of geriatrics the length and breadth of the land, as Dishy Rishi shrank visibly before her eyes, and the press allowed her to bask in fake praise from those hungry for a prime job, anyone might have been lulled into such a trancelike state, akin to a mixomatosis rabbit in the headlights. 
But Liz Truss was rather hurtled back to reality through a series of simple twists of fate, conspiring not just to rain on her parade, both figuratively and literally, but to engulf it in another ostensibly ceremonial, but in reality far more consequential series of actual parades.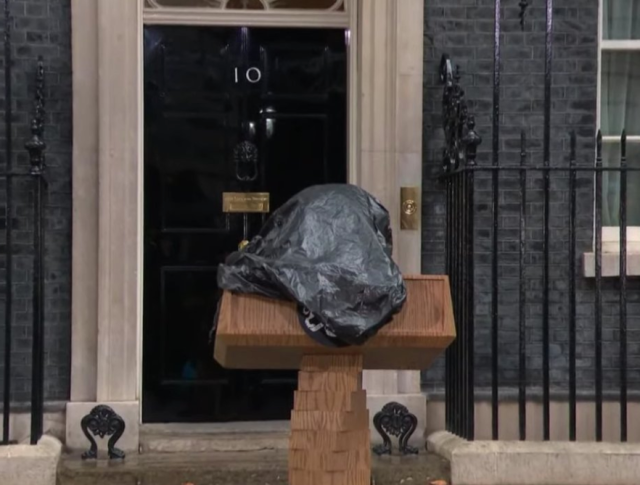 I have in the past several years been increasingly amused at the subtle, yet killer wit of the late Queen, including the revelation that she spent a fair amount of time chatting away in a convincing Scouse accent and revelled in being called Gary. 
Notwithstanding his beautifully crafted tribute to her in The House of Commons (if only he could have applied some of his evident rhetorical skill and deft oratory to being PM), the way Her Majesty has managed to avoid having to be in a room with Bojo the disgraced clown, right up to the point where he had to trek up to Aberdeenshire in a thunderstorm to be "seen off" (his words, not mine), has been an exemplary lesson in quiet diplomacy. 
But as is so often the way for those with uncanny good fortune, Boris breezily gave his deluded victim speech outside Number 10 in the bright morning sunshine (where he managed to suggest, through perhaps slightly under-researched classical allusion, that he might return as a proto-fascist dictator to put down a popular uprising), before flying between the looming storm-heads to Aberdeen and thence Balmoral for a last audience, leaving poor Truss to fly up through all the storms, and what must have been quite some turbulence, to find Aberdeen airport shrouded in fog; and unable to land, herself 20 minutes late for her first, and sadly as it turns out, last audience with The Queen. 
With the formalities completed, she was then whisked back through the rain to Aberdeen, and back through the storm clouds to London, where the welcoming party had been standing ready, quietly absorbing pints of drizzle in their suit jackets, a bin-bag unceremoniously covering the microphones on the lectern as anxious sound-engineers fidgeted nearby. 
Just as the environmentally questionable eight-car motorcade hove into view on the BBC's live helicopter camera, bearing down on central London, the heavens opened, the welcoming party bolted for the Cabinet Office in a soggy and chaotic melée of umbrellas, and the beleaguered lectern was carted back into Number 10, much to the relief of the sound techs.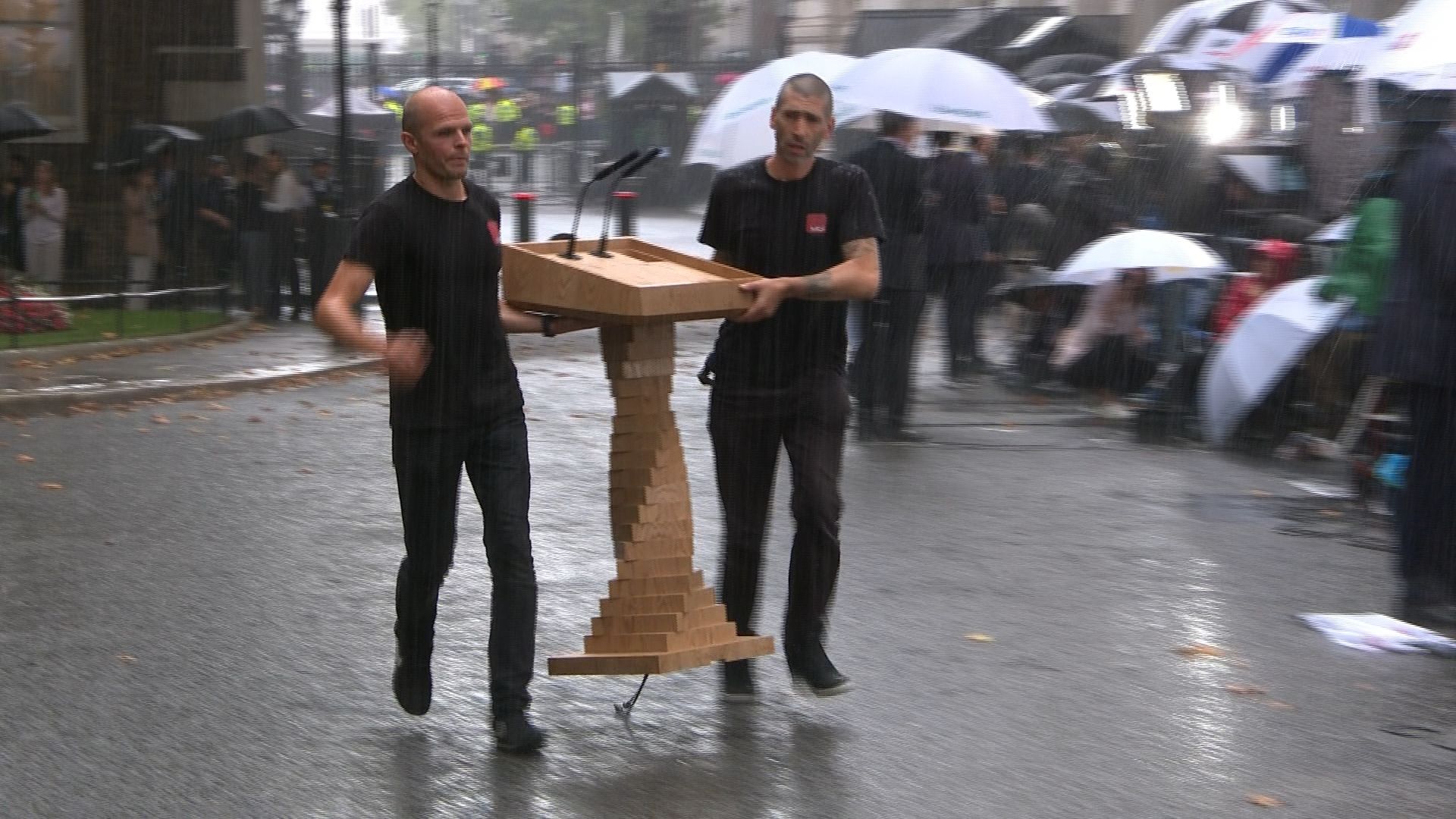 What followed was a fascinating improvised commentary of the progress of eight armour-plated SUVs on a seemingly random jaunt around the landmarks of the Thames. "It looks like they're crossing over Lambeth Bridge", "But that's the south side of the river", "Oh yes, there's the Bishop's Palace", "One of the finest gardens in all of London, don't you know", and now settling into the tour guide roll, "And here's St Thomas' Hospital" etc etc. 
They managed to handle the slightly comic situation without betraying any noticeable mirth, and within ten minutes there was window enough in the rain for the motorcade to sweep in, applauded roundly by the hastily reassembled but still sodden welcoming party, and for Truss to dash out and give a fairly concise speech at a re-fettled lectern, before proceeding through the famous door with her gently beaming husband. 
The superhuman effort it must have taken for The Queen to make sure she was still there in September to expertly conduct her last official duty and make sure the hand-over of power was incontrovertibly complete before the inevitable turbulence in the wake of such a monumental historical figure, is truly remarkable, as was the lady herself.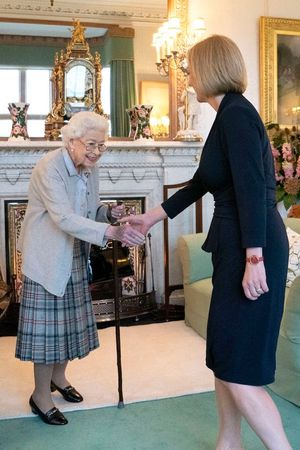 Truss was afforded a fairly uneventful first Prime Minister's Questions and one night's sleep before her big day to announce her economically dubious plan to pay fossil fuel producers from the public purse to continue to extort vast profits from the desperate poor...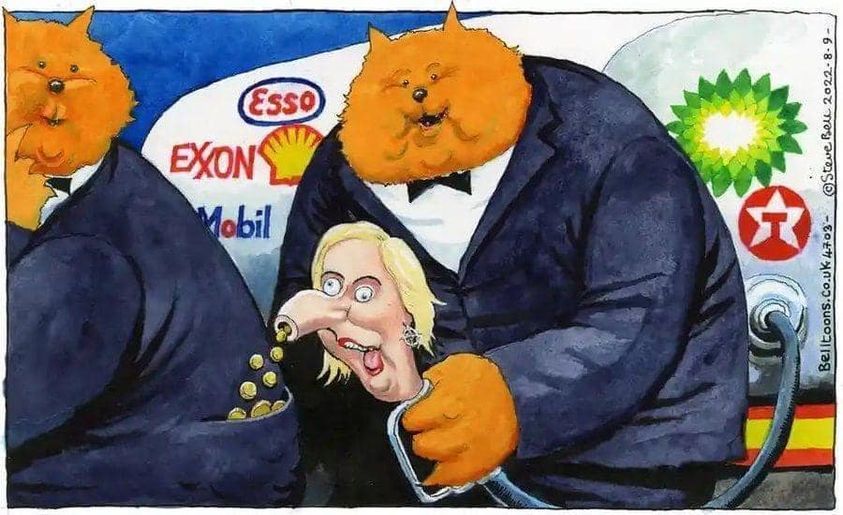 ...but it was not to be. 
Moments after she had finished her initial statement, she was shown a note which left her looking as shocked as when the interviewer collapsed suddenly in the middle of one of the televised slanging matches earlier in the summer, and all plans were out of the window. 
Since then she appears to be managing pretty well with the formalities of the situation and though a touch star-struck, managed to be very gracious when the similarly discombobulated nascent King Charles accidentally implied that he'd been dreading meeting her for ages. 
I thought he gave a fine tribute to his mother and a well crafted speech in his first public address. Despite tiring of the continuous stream of tribute on all available wavelengths, it's refreshing to hear some of these speeches in this strange calm where the rabid, amoral British press are forced to put on kid-gloves for a fortnight and even leave the Sussexes alone for a while. 
Pardon my digression into blow-by-blow political commentary, but it is such a momentous and precarious time on so many levels that I find myself needing to process it all in some way.
Last weekend, we bid farewell to Nye's dad, in the company of all the Parsons and a wonderful collective of Wellingborough legends, at The Victoria Centre, where Les spent many years working and promoting music, colloquy and activism amongst the smidgens. 
It was a lovely day, filled with friends, songs and fine memories. Deepest thanks to Ceri and the whole gang for all the hard work, to Yasmine for coming all the way from Thanet, to Kevin from braving the Atlantic twice in a month, to Keir and Family, Karl and Family, Gerry Elliot, Simon Andrews, and above all Nye for holding it all together and playing bass with every band from lunch til closing. 
Last week the full Parsons, inlaws and outlaws included, headed up to Kinder Scout to scatter Les' ashes to the winds. Good on you all. You're a fine bunch.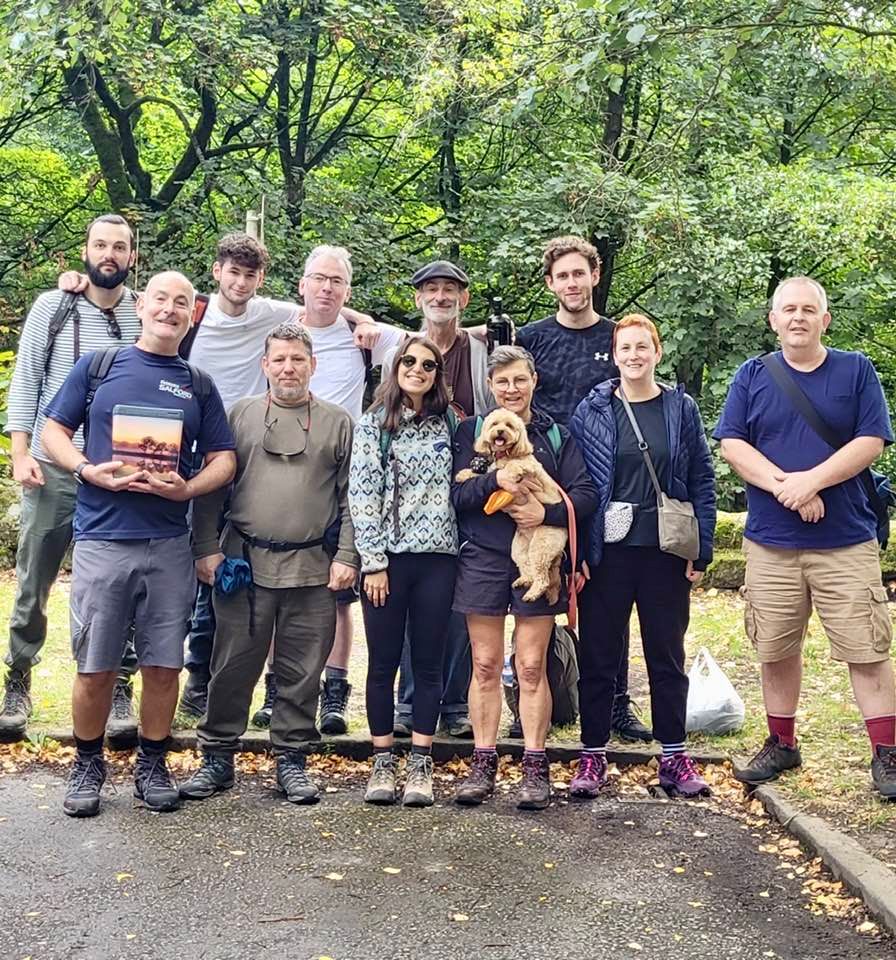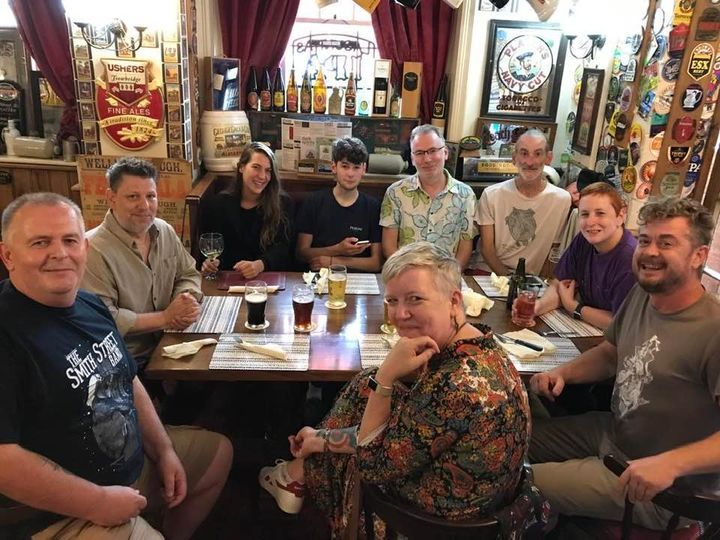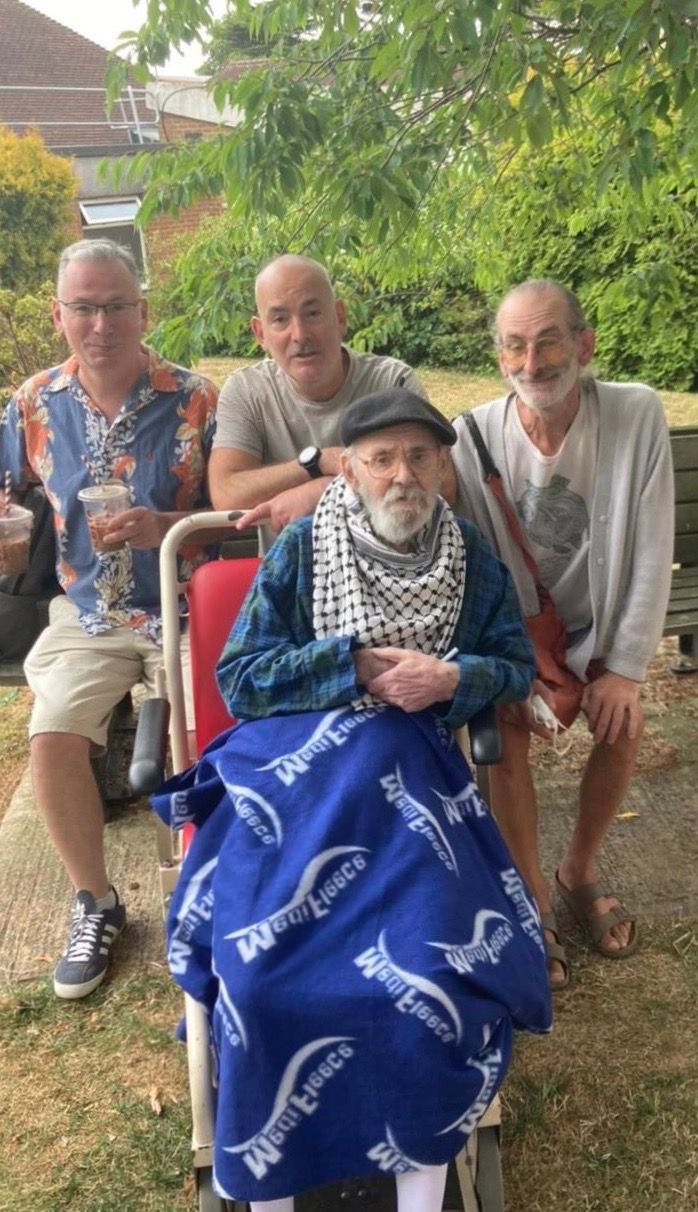 Thanks to all of the festivals, hosts, promoters, friends and fans who have made it such a special summer, and particularly to Owain and Sue for looking after us all so well and being amongst the hardest working people in show business. 
On the subject of Owain and Sue, Priston Festival happens next weekend, September 16th-18th, in the delightful village of Priston, 4 miles south-west of Bath. The line-up is great. It's free to all, and you will be in the hands of the finest hosts around, so if you're anywhere near Bath, go and check it out. 
When time allows, I will write a little about our recent musical adventures, and perhaps about what is to come, but for now, from the dawn of a new era, I bid you adieu. 
With much love from the edge of the road, 
Jez