Dear Friends around the world,

I find myself looking out at dappled sunshine on rampant undergrowth for the first time in what seems like forever.

As the south of Europe burns in the fierce heat and prevailing winds, one reason so many Brits continue to fly to Greek islands which are literally on fire, is that it's been almost continuously bleak, damp and windy in England since we made our way down from sunny Scotland at the end of June, and perhaps the chance of drying out seems worth the risk to a mildewed populace.

Massive respect to all the crews who've managed to run tent-based festivals despite it all. Tolpuddle sadly had to be cancelled at the last minute, for the first time ever, as gale-force winds threatened to whisk the tent away to Bere Regis and beyond, but Pig's Ear Folk Ale, perched on the High Weald of Kent somehow managed to cling on for dear life with only minor wind-based mishaps, and when we arrived to join the great Tim Edey & friends on the Sunday, the clouds miraculously parted and we were treated to a bucolic sunset and musical magic from all directions. Thanks to Euan, James, Jen, Puffin and the whole crew for making it happen.

We are about to embark on our next run of shows, from Margate to Cornwall and back. If you or any of your associates are within striking distance of any of these places, we thoroughly look forward to singing to you along the way.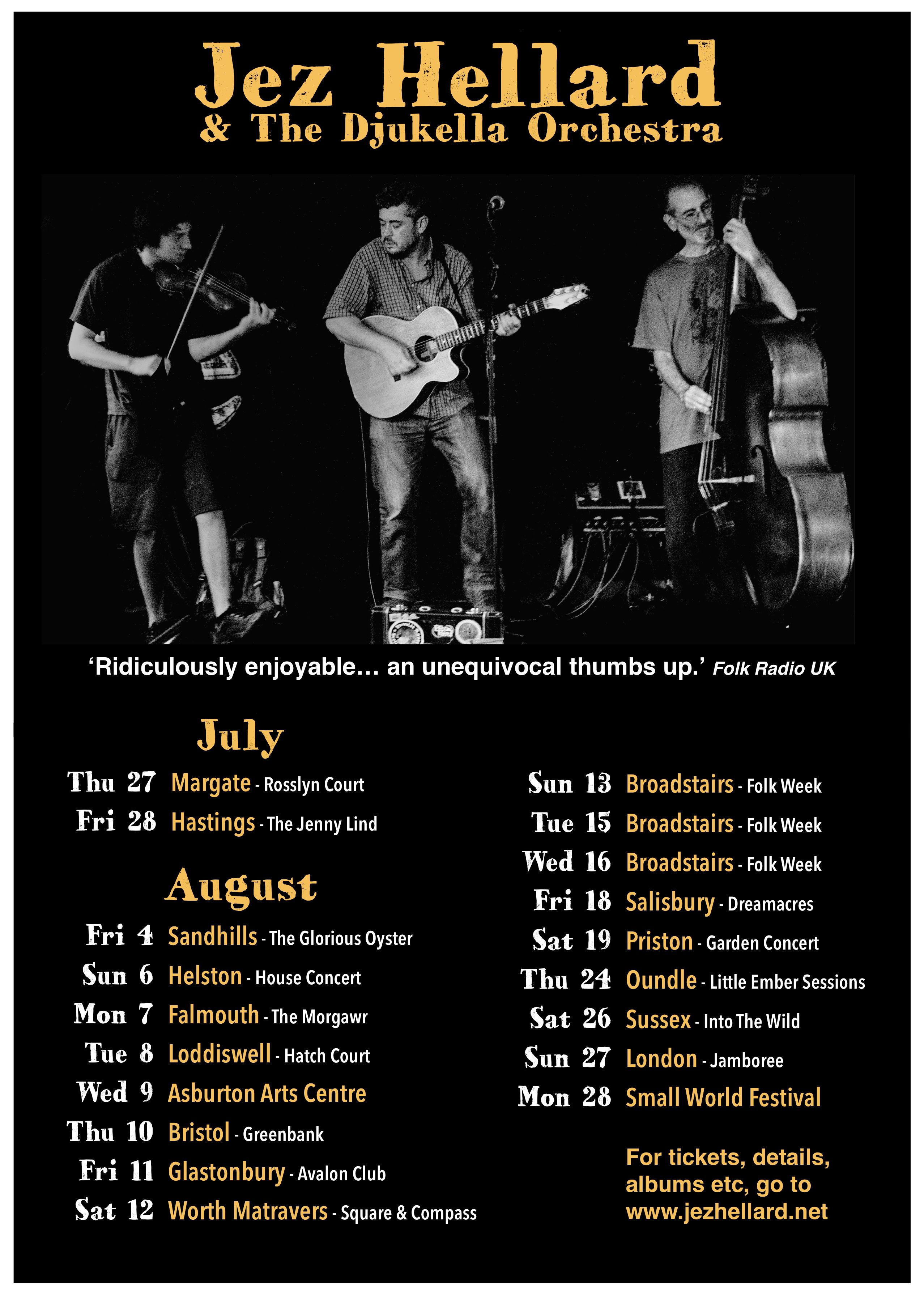 All tickets are available through the "Shows" page of the website, apart from those gigs where you don't need a ticket. There are still a few left for tonight's show at Rosslyn Court in Cliftonville, Margate, (Thursday July 27th) and we could really do with filling the place, so if you're anywhere near east Kent, just click here for tickets, or if you'd like to watch online from the comfort of your own device, here's the link...

If you're bed-ridden, housebound or just unable to make it along, our gig at The Bell in Bath from a couple of Mondays ago is available in its entirety to watch on youtube. I made a couple of howling lyrical errors but otherwise everyone tells me we were on fine form, and it's well worth a watch, if you fancy a bit of music. Beautifully captured by the great Steve Holder on sound and vision, here you go…
The past couple of weeks have been tinged with tradgedy. The week before my dear friend Mark "Grizz" Adams' funeral last Wednesday, which, despite the sadness, was an incredible reunion and a joyous celebration of a brilliant man, drawing people back to King's Cliffe from as far afield as Australia, we learned of the tragic passing of yet another dear friend, leaving an aching chasm in the hearts of many.

Nick Noodles; soundman extraordinaire, DJ, guitar picker, car-fixer, shoulder-lender, purveyor of bass (and the rest) for the legendary Krunch sound system, chief-archivist of Northants music for 3 decades and finest wrapper of cables in the business, took his own life on the night of July 4th. He'd been left in a desperate situation and decided it was time to move on. It is a savagely difficult reality for many of us to even begin to understand and come to terms with.

My heart goes out to Nikita, Brenda, Joe, Chris and the many friends he leaves behind. Deepest thanks to Kim for working tirelessly to organise his affairs, many tons of equipment and meticulously organised and individually labelled belongings, as well as the funeral, which takes place at Peterborough Crematorium this Friday, July 28th at 3pm.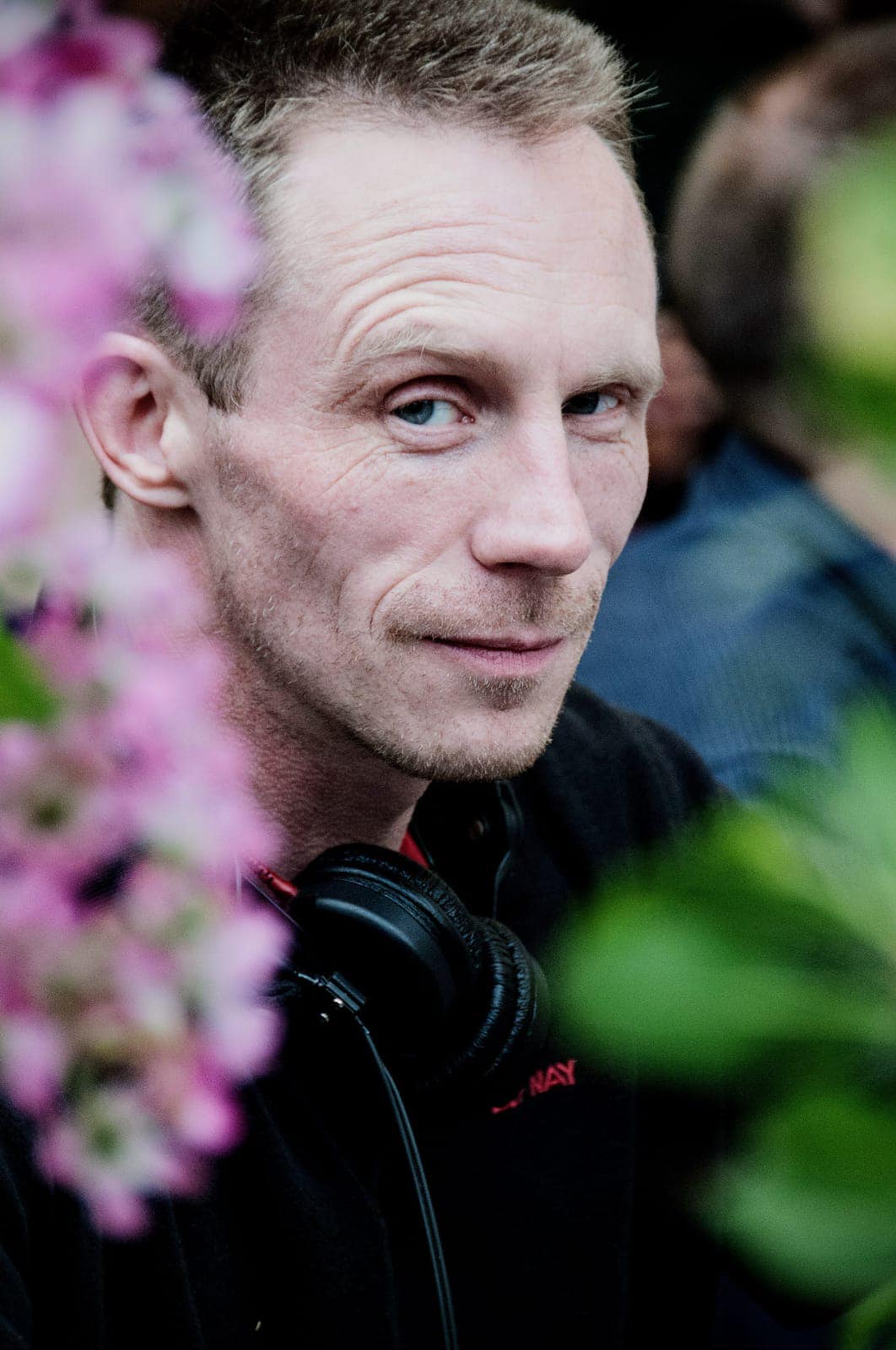 Anyone who'd like to join us to celebrate Nick's life, is welcome either at the ceremony or afterwards at The Ship Inn, Oundle. Bright colours, or indeed anything you fancy wearing, will be the order of the day.

Whether you knew Noodles or not, there's a brief tribute and a rousing song in his memory on the video above. If a whole concert is a bit daunting to plough through, I completely understand, you can find it at 1:52:50 (as in 1 hour, 52 minutes and 50 seconds) into the proceedings. In the coming days I will find some tech-savvy friend who can cut it out for me so I can share it more widely, but that's beyond me, so I'll have to wait.

And for now, I must fly. So many miles to drive and much to do before the off. For those of you in the south, east and west of England, I look forward to catching up with as many of you as possible over the coming weeks.

Please help us to share the flyer, tell your friends, contact your favourite radio show and ask them to play our music, recommend this blog, buy albums and spread the word.

Making a living is difficult, but being able to continue singing to you all is so rewarding. Sorry I've no time to rant on about our tragicomic political scene. For once I'll spare you…

With much love from the back of the van, as the rain steadily patters once more on the solar panels,

Jez